Wells Fargo SWIFT/BIC Code
The SWIFT-code for Wells Fargo is WFBIUS6S. The bank has 276 departments so make sure you use the right code. Read on to know more about what is a SWIFT code and how to use it for wire transfers.
WFBIUS6S
The SWIFT code for Wells Fargo
What is the SWIFT code for Wells Fargo?
| | |
| --- | --- |
| SWIFT-Code Wells Fargo: | WFBIUS6S |
| Wells Fargo headquarters: | 420 Montgomery Street San Francisco, CA 94104 |
| Departments: | 5198 departments across the United States |
| Country: | The United States |
You've probably heard of SWIFT code before but maybe aren't quite sure of its meaning and use. A SWIFT code (or a SWIFT number) is used for the identification of banks and financial institutions globally when making international money transfers. This code will identify such information as the country, bank, and branch of the recipient's account. The SWIFT stands for Society for Worldwide Interbank Financial Telecommunication. Don't be confused if you come across it as Wells Fargo BIC (Bank Identifier Code). They are the same thing and are both used for transferring money between banks. Some banks might use BIC code, some SWIFT number, and some both – BIC/SWIFT.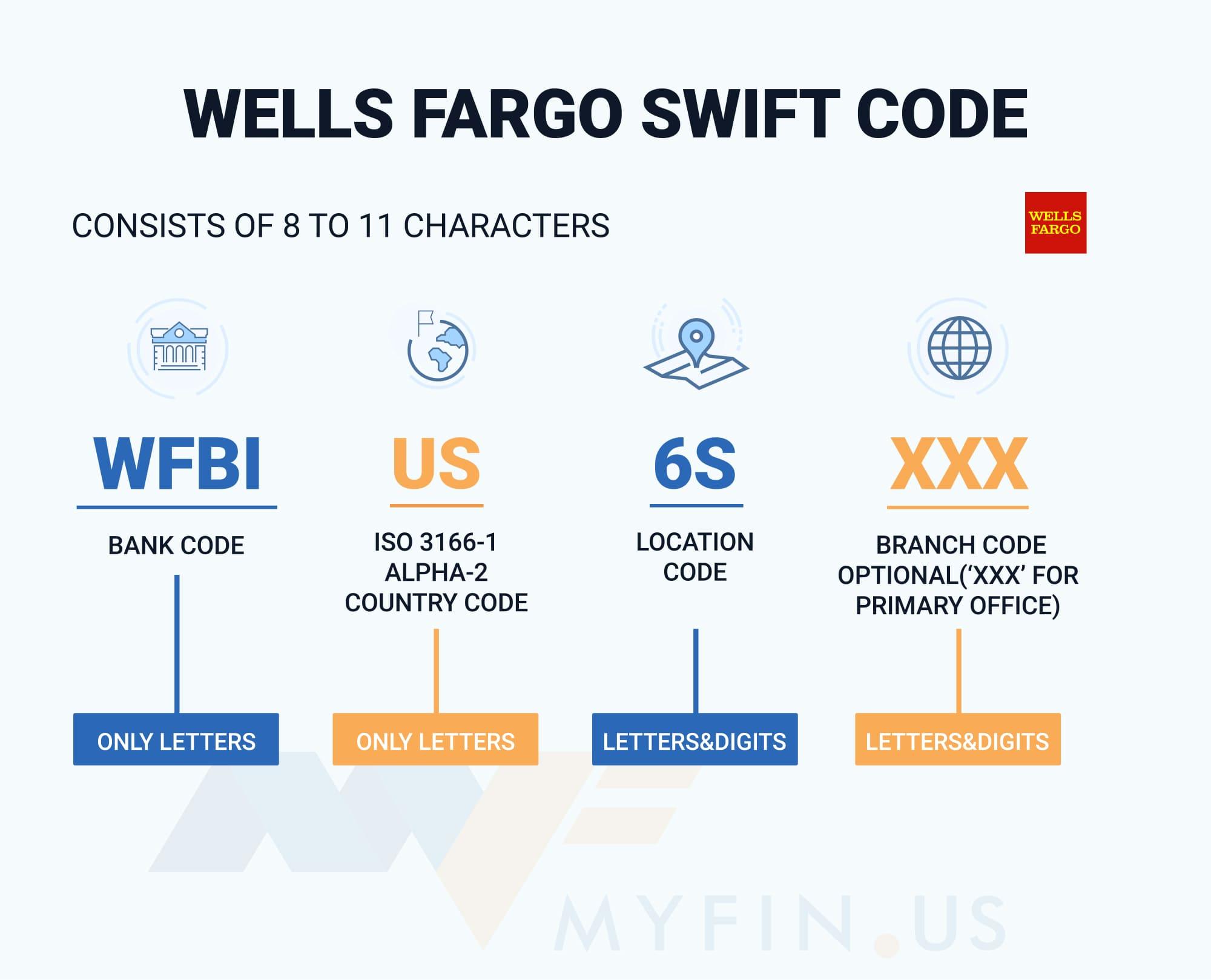 What does SWIFT code consist of?
A SWIFT code is usually an 8- or 11-digit number with the following format AAAABBCCDDD. These stand for:
AAAA – four-character bank code (letters)
BB – two-character country code (letters)
CC – two-character location (institution's headquarters) code (numbers or letters)
DDD – (optional) three-character branch code
How to use the right Wells Fargo SWIFT/BIC code?
The SWIFT code is unique for each Wells Fargo branch. In order not to make a mistake with SWIFT codes when making international wire transfers you may simply use the 8 digit head office SWIFT code – WFBIUS6S. This way the payment will still achieve your account and you will not have to spend time finding the SWIFT code of your branch.
FAQ
Does Wells Fargo SWIFT code change from branch to branch?
Yes, each Wells Fargo branch has its own unique SWIFT code. However, if you're not sure or cannot find the particular branch code for sending money abroad, you can put the eight-character SWIFT code of the head office. Your payment will still be processed and received.
How to find Wells Fargo SWIFT code?
Finding the SWIFT code is easy and can usually be done in three ways. You can find it on Wells Fargo's website, on your bank statement, or simply search it online. Be careful and make sure you copy down and enter the code correctly.
How to do an international money transfer using SWIFT code?
An international transfer is done similarly to a domestic wire transfer, with a few differences. In addition to the recipient's name and bank account number, you will need to enter the SWIFT code (or BIC) of the recipient's bank.
When entering the amount you wish to transfer, pay attention to the transfer's currency. Once you enter the recipient's details, the amount might be automatically converted to the account's currency. However, this is not always the case, and you must double-check whether it's the preferred currency. If not, select the appropriate currency and then enter the amount. Otherwise, attempting to send money in a currency that your account does not support may result in the entire transaction being denied.
On top of Wells Fargo's initial processing fee, you can expect to pay additional hidden fees imposed by any intermediary banks (or any other banking institution) and/or the recipient's bank.
Please note that international wire transfers may also require additional information from customers and take a few days to process.
Routing numbers in other banks