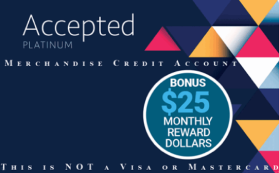 Apply now
On Acceptedplatinum's website
Recommended credit score
No Credit History to Poor (0-579)
Rewards Rate:

This card doesn't offer cash back, miles or points.

Intro Offer:

Annual Fee:

$269.35 (incl. one-time application fee $29.95)

Purchase Intro APR:

0% Introductory APR

Regular APR:

None

Balance Transfer APR:

None
Details:

The Accepted Platinum Card is a special card for online shopping.

The Accepted Platinum card offers fast, trackable and reliable roadside service.

The Initial cost of membership in the Unique Card Services shopping club is $29.95. The continuing cost is $19.95 per months. The card's NSF check fee is $30 (fee for returned checks or debits, second NSF).

The card's minimum monthly payment is 15% (of the account balance owed) or $25.00.

The Accepted Platinum Card has no penalties for prepayment.
Pros:

No Foreign Transaction Fee
Introductory APR period

Cons:

No rewards
No Intro APR period on balance transfer
Benefits:

$1,000.00 Credit Line;
No Credit Checks & No Credit Turndowns;
24/7 Roadside Assistance;
Low Monthly Payments.
View all Accepted Platinum details