Celtic Bank Reflex Mastercard®​ best for Unsecured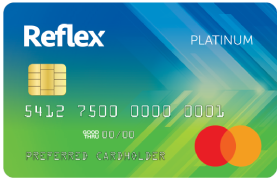 Annual Fee:
$75 - $99 for the first year $99 after the first year
Regular APR:
24.99% - 29.99% Variable
Сredit score
No Credit History to Good (0-739)
Issuer name:

Celtic Bank

Details:

The Reflex Mastercard® can be used as an effective tool to build credit. The card has an APR of 24.99% - 29.99% (Variable).

With $0 Fraud Liability you will not be held responsible for unauthorized charges on your Reflex credit card. With zero fraud liability you are only responsible for purchases that you make, so you can shop with confidence and know that your card activity is fully protected.

Monthly Maintenance Fee: $0 - $120.00 annually (billed at $0 - $10.00 per month). Monthly Maintenance Fee not billed for the first 12 months your account is opened. Additional Card Fee is $30.00 (one time, if applicable).
Pros:

Chance to get a higher credit limit
All credit scores are welcome to apply
Reports to three bureaus
Check if you prequalify without affecting your credit score
No deposit required

Cons:

No rewards
High Regular APR
High annual fee
Monthly maintenance fee
Additional card fee
Foreign transaction fee
Benefits:

$0 Fraud Liability;
Potential Credit Limit Increase After Just 6 Months;
Free Monthly Credit Score;
Monthly Reporting to All Three Major Credit Bureaus;
Credit Protection program.
View all Reflex Mastercard®​ details
Apply now
On Celtic Bank's site