Synovus Bank First Progress Platinum Elite Mastercard® Secured best for First time applicants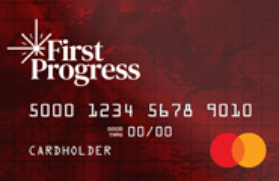 Apply now
On Synovus Bank's site
Recommended credit score
No Credit History to Fair (0-669)
Rewards Rate:

This card doesn't offer cash back, miles or points.

Intro Offer:

Annual Fee:

$29 annually

Purchase Intro APR:

None

Regular APR:

19.99% Variable

Balance Transfer APR:

None
Issuer name:

Synovus Bank

Details:

The First Progress Platinum Elite Mastercard® Secured Credit Card is designed to help cardholders build credit with no credit check or minimum credit score required to apply.

As a secured credit card, the First Progress Platinum Elite Mastercard® doesn't come with any welcome offers, sign-up bonuses or reward rates.

As a Mastercard®-branded credit option, this First Progress card is accepted nationwide.

The initial Credit Limit for your Account will be equal to the amount of the Deposit that you make with us, which must be at least $200 (see "Security Interest" above). However, if you choose to deposit more than $200 your initial deposit and corresponding Credit Limit must be at least $300 and may not exceed $2,000.
Pros:

No credit history required
No Minimum Credit Score needed
Low Annual Percentage Rates
It builds your Credit Score

Cons:

No option to graduate to an unsecured credit card
Credit limit is equal to your deposit amount
There is no Rewards program
There are some area restrictions
Benefits:

No Minimum Credit Score;
No Credit History Required;
Accepted Nationwide.
View all First Progress Platinum Elite Mastercard® Secured details