Celtic Bank Surge® Platinum Mastercard® best for Walmart purchases
Apply now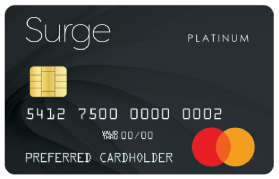 Annual fee:
$75 - $99 annually
$99 annually
Regular APR:
24.99% - 29.99% Variable
Credit score
No Credit History to Poor (0-579)
Issuer name:

Celtic Bank

Details:

The Surge® Platinum Mastercard® credit card's APR range from 24.99% to 29.99%, based on creditworthiness.

The Surge® Platinum Mastercard® has an annual fee of $75 to $99 (after that $99 annually).

There's also an additional one-time card fee of $30, if applicable. The card has a cash advance fee of 5 percent of the cash advance amount or $5, whichever is greater.

This unsecured credit card can be used as an effective tool to build credit as the issuer reports your monthly payments to the three major credit bureaus — TransUnion, Experian, Equifax.
Pros:

Monthly Credit Reporting
Free Monthly Credit Score
Potential Credit Limit Increase After 6 Months
Prequalification Without a Hard Check

Cons:

High Annual Fee
Relatively Low Credit Limit
Foreign Transaction Fee
Monthly Maintenance Fee After the 1st year
High APR
Benefits:

$0 Fraud Liability;
Monthly reporting to the three major credit bureaus;
Possible credit limit increase after just six months;
Free Monthly Credit Score.
View all Surge® Platinum Mastercard® details
Apply now
On Celtic Bank's site